Get Entry to The Best Night Clubs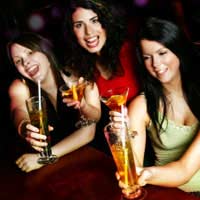 The best nightclubs in the UK are the natural home of TV personalities, musicians and the nation's wealthiest eligible singletons. Entry can be almost impossible unless you are a well known VIP or have a gold card generously charged with money you can afford to burn.
Whatever your reasons for wanting to get into a prime nightclub you will need to be able to think on your feet, have an outrageous tenacity and exaggerate the truth just a little, to get past the riff-raff and into the arms of this week's Jade Goody, Jodie Marsh or Prince Harry.
Find the Best NightClubs
It may take a lot of time, energy and effort battling to get into a nightclub. Make sure that the club you want to get into will be worth the fight. To find the best clubs in any major city look in magazines, newspapers and specialist nightlife websites to get the gossip on where the trendiest and most talked about nightspots really are. London free daily papers (such as Metro, The London Paper and London Lite) discuss the depraved antics of minor and major celebrities virtually every day and are a good place to find out where to head.
Testing the Water and Preparing for Action
First of all, make sure you get on all the mailing lists for top clubs and nightclubs. Every week, promoters send out thousands of invitations to their events at clubs and may offer free entry or free entry competitions. If you're on their list, gaining free admission and other benefits may be as easy as printing an invitation or filling out a form on a website.
Getting into prime nightclubs can occasionally be much easier than first imagined. Some clubs offer a free guest list to anyone! All you need to do is call the venue before the night to arrange it by giving your name and the number of friends arriving with you. If it's a special occasion, such as a birthday, you may like to drop this into conversation to ensure your place on the guest list is guaranteed.
If this first step proves futile, you may need to elaborate, just a little! Call again and pretend that you are from a large company and want to entertain some clients that night. Ask what the venue can do for you; can they provide free entry, free drinks and free food? Suggest that anything they can do will be excellent PR for them and if they impress you and your clients you may bring many more paying clients their way in the future!
Blaggers with extravagant egos have been known to call venues posing as band managers or record labels, trying to arrange guest list for their newly signed, hotly tipped, rock band or pop stars. Create a pretend band name and then attempt to convince club owners that you need guest list for your famous artists. Mention that photographers are currently on the band's trail and that entry for your performers will mean free advertising for the club itself.
Failing this you can try the journalist approach. Clubs allow free entry for journalists on assignment. Approach publications and ask them if they would like a review of the club you want to go to. Student newspapers, radio stations and TV stations do not require you to have any past experience of writing and clubs are often keen to get publicity within the student population. Although this method is fairly time consuming, it may well be the most efficient and effective means of obtaining free entry for you and your friends.
On the Night
If nothing has worked so far then you will need to be even more innovative. Skip any queue, walk up to bouncers and pretend you are a well-known celebrity. If you look fairly similar, and are wearing enough make-up, you may be lucky enough to chance it through the doors.
Many well-known clubs are attached to bars and restaurants. If you arrive early (before the club has opened) and go for a drink next door you may be able to find a path in to the main club itself. If you are confident enough to do so, walk into staff areas and look for connecting doors and passageways. Be prepared to be extracted from the venue and banned from coming back!
Wearing a costume can certainly be a way to get noticed and may also be enough of a bluff to get you entry into a top club. If you go the whole hog and dress up in an outlandish and extravagant costume that makes you look like a star, bouncers, or owners may be so overwhelmed that they let you in. Of course, you may be laughed all the way home, too!
Future Plans
There is always a way to get in to a club for free. Target your blagging antics to each venue. Find out as much information as you can about entrances, bouncers, owners and promoters and use your quick wit and sharp mind to navigate any obstacles. Getting in to clubs for free can sometimes be like walking the tight rope. Fail and you will be forced to leave in shame looking incredibly foolish. Succeed, and you will be set to have the night of your life. Good luck!
You might also like...