Get a Great Discount or Reservation by Phone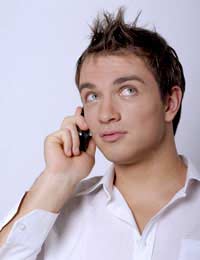 As all good blaggers already know, good blagging is all about good planning! To do this successfully, you will more often than not need to phone ahead. This may mean arguing with a string of managers about your credentials in order to gain access to a reservation, VIP room or, it may (much more simply) mean keeping staff informed of your impending arrival so that they will be more prepared to provide you with your previously organised blag.
The key to phoning ahead is to make sure that your pretty much always do! The only reason you shouldn't be pre-blagging like this is if you have a reason to keep the venue you are visiting in the dark about your arrival. For example, you need the element of surprise to create a more ad hoc blag.
When to Phone Ahead
Restaurants:
Phone ahead for your tabel reservation (of course!) but more importantly phone ahead to arrange birthdays, parties and large group outings. Restaurants can be very good at offering percentage discounts on your total bill if you bring a lot of diners with you.
Similarly, if it is your birthday, phoning in the early afternoon when the restaurant is less busy will allow managers to make better, more thought out discount decisions. You could easily blag a free main course or even free meal for yourself, if you are bringing several other guests to the restaurant.
Clubs: Call ahead to announce your impending arrival that evening! Mention that you work for a huge corporation or are part of a new, as yet unknown, band. Try to talk to the right person (someone who arranges guest list and VIP entry) and make sure they take a note of your name – for the guest list itself! Try to build rapport whilst on the phone and get the name of the person you are talking to. This way, if there are any problems later, you will be able to mention this person, and should be able to blag your way in from that!
Taxis: Even if you don't know exactly what time you'll need a cab, phone early and book one for a certain time. If you are still not ready half an hour before the cabs arrival, give the company a call and get them to push back your pick up by however much time you need. This way, you can guarantee yourself a cab later in the evening, and you won't be left waiting for hours and hours when you phone at midnight to see if anyone will take you home!
Festivals and big events: Phone ahead for all types of festival, concert and cultural event. Try to talk to the event's press office and arrange yourself guest entry by using your expert blagging. This works much better than simply arriving and hoping for the best. Similarly to the clubbing blag, make sure that you get the name of the person you are talking to and that they take a note of yours, too!
Hotels: To blag freebies at these establishments call early and try to get through to the manager. Get the manager to put an "upgrade request" on your room reservation. When you arrive at the hotel and the manager has gone home, try to blag that you know the manager and that he recommended you a free room upgrade!
Phoning ahead can be done days in advance or, if you are more of a last minute blagging mastermind, on your mobile on the way to your destination. The important things to remember with phoning ahead are: to make sure you talk to the right person (this usually means hanging on until you get put through to the highest level manager in charge); to talk clearly and make sure the person you are talking to takes a note of your call; to talk with confidence; and to be very tenacious.. don't give up!
You might also like...