How to Get on TV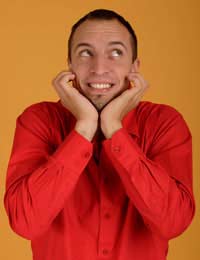 Getting on TV is easy, it just takes guts, a little persistence and sometimes, a lot of persuasion!
The Conventional Approach
These days the best chance you have of getting on TV (acting, presenting or appearing on a show) is to either attend stage school from a very early age or to get on to a media course at University. There are certainly other means and opportunities to get on TV too, but these are probably your best bet for developing contacts that you can use later in life.
If you've missed the boat, then you can still attend auditions for television roles or roles in small adverts, although without contacts it could be tricky getting noticed unless you have real hidden talent! Your best hope is to aim low, and try to get small roles in the hope of doing well enough to develop a career in television.
Where to look for auditions
You'll find adverts for upcoming auditions in trade magazines like The Stage and occasionally on websites. You may also be able to find out about upcoming auditions by contacting drama schools and University media departments.
Expect to be paid very little for low level work. Only famous, well-known or highly talented people get paid a lot of money for standing around talking on TV. This can be your eventual aim of course, but will not be the outcome at the start of your career.
Tip: Never fall for tricks such as scams from companies asking you to pay to attend auditions. After all, you wouldn't pay to attend an interview for a job at TESCO, so why would you need to do this for a TV role?!
The Unconventional Approach
Blagging and jobs in the media tend to go hand in hand. If you do a little bit of research on pretty much any famous actor (Johnny Depp, Nicholas Cage, Ray Winstone) or presenter (Graham Norton, Lily Allen, Alex James) you will discover that most of the faces on TV got there by accident, rather than through years of hard work!
How to Blag it!
In the world of TV it is most definitely a matter of who you know rather than what, so you need to make contacts. Whether you do this by hanging out in popular celebrity bars, restaurants or even outside television studios, you need to get in to contact with other people in the industry and befriend them, making sure not to get labelled as a stalker or arrested by the police whilst doing so!
Although making friends with showbiz types and celebrity riffraff won't guarantee you a great job on daytime TV, if you are lucky enough to get snapped with a star and get into the press, it could be a springboard for your career. Famous friends will also know about auditions and TV shows looking for new presenters before other people, again giving you a heads up for success.
If at First you Don't Succeed!
Getting on to TV is a long-term process and you should never expect to be successful, although this should of course be your goal. If you aren't getting on too well, why not try..
Becoming an Extra
Television companies looking for extras often post adverts on websites throughout the net. Check these places for offers of casual extra work. It's not great pay and will require you to wait around for an awfully long time whilst cameras are set up and famous actors do their things, but you may meet great contacts and even blag better roles for the future!
Getting on to Live TV shows
Live TV shows are always looking for audience members. If your aim is just to get your face on TV, for even the shortest amount of time, then you could do worse than making a free application!
You might also like...