Get A Good Deal On Your Wedding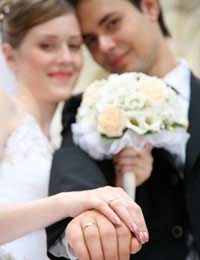 Keeping things simple is usually the best way to save money. Unfortunately for us weddings are very rarely simple events and excited families usually expect everything from the extravagant to the simply ridiculous on your big day.
When you should really be sticking to small, subtle wedding decorations, your mother is circling individual solar powered, chocolate drinking fountains, to go beside the place settings! With all this pressure and confusion it's easy to get carried away, pick up the credit cards, and make a few too many rash decisions. Is there really any way not to?
Well yes, we think there is! It may be a struggle, but there are a few ways to reduce your wedding spend, especially with a little help from cheap online shopping! Here's how you can hope to save money, whilst keeping things entertaining!
Wedding Invitations
Order all wedding stationery (invitations, reply cards and thank-you notes) at the same time for better "bulk" rates. Keep the weight down on your invites too, so that only one stamp is required for each invitation!
Wedding Dress
Shopping for a wedding dress at the end of the season (August) rather than the start, may mean big discounts. During this period, retailers start selling off spring and summer stock to make room for autumn and winter wedding outfits. Cheaper wedding dresses are also available online.
The groom's wedding outfit tends to be far less expensive. Occasionally, suit shops will throw in the groom's outfit for free if all of the men order together. In practice, you only need a few groomsmen to order here as there is no way to tell how many there will be at your wedding! Online suit hire is becoming more and more popular and should also be investigated as a means of saving large amounts of money.
Wedding Flowers
Make sure you use flowers that are in season and available locally. Your florist can help you determine this.
Doing some of the flower arrangements yourself, or getting some friends to do it for you will help save you a lot of money. Consider buying wedding flowers online directly from a grower, which will realistically shave hundreds from your bill.
Wedding Reception
The wedding reception alone can end up costing half of your entire wedding budget. To save cash, choose a Friday or Sunday and forget Saturday night. Deciding on pasta, instead of chicken or beef will also cut your costs dramatically!
Stop Hiring
There is no end to the amount of wedding personnel you can hire so instead, why not improvise. Ask a friend who studied photography to take your photos. Ask your flower loving aunts to arrange the flowers! Offer students a few pounds an hour to serve drinks (rather than paying a company a lot of money to hire students and pay them a few pounds an hour for you!)
Instead of paying high priced specific musicians and DJ's to perform at your wedding reception, ask unknown bands to play. Lots of bands will be only too pleased to get the exposure and will happily learn any cover versions of popular songs you require. Provide some free drinks, and you should have no trouble in organising some fantastic (and original) music.
Wedding Photography
A very popular way of capturing the day is putting disposable cameras on each table, so that the guests can take their own pictures. You then collect these in at the end of the night and can look forward to some very individual photographs. This is also more cost effective than having your photographer stay on for the reception. Order these cameras online for a fraction of the usual retail cost.
You might also like...