Dress to Get a Job, a Date, or Club Entry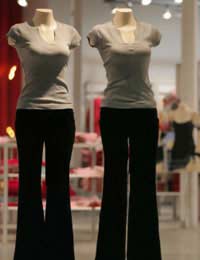 A first impression is formed mostly on what you look like. What you say has very little to do with it. Research suggests that it takes people just 3 minutes to form their total opinion of you and around half of this time is spent judging your clothes, hairstyle and physical appearance, etc.
Dressing well does not just send messages to other people but actually influences our own confidence levels too. This is why so many women wear their best underwear on special occasions, even though no one is likely to see it.
For instances when we need to give our confidence levels a boost, a smart, sophisticated outfit can do a great job.
What to Wear
With so much attention paid to what you wear it is important to get your clothing right. Consider these five tips to get you started on improving your overall dress sense.
Remove all bulky items from pockets and place them in a smart shoulder bag for the men or handbag for the women. This will make you look more slender and draw attention away from already bulky areas such as your hips and chest.
Chose simplicity over complicated patterns, colour combinations and appendages.
Pick your colours to dress for the occasion. Red can make you seem very dominant, powerful and sexual; a good idea for evening wear. Pink sends the message that you are more laid back but still confident enough to offer intelligent input to business type conversations.
Make sure your shoes match your outfit, are clean and polished. So often, the small details are picked up upon when you first meet someone new.
Make sure your shirt, blouse, trousers or skirt are ironed and fit you perfectly. There is nothing worse than someone wearing a creased top that is far too small, which gives the impression of scruffiness and someone unable to cope with the situation ahead. .
Once you are kitted out and looking dapper you can put your streamlined dress sense to good use in most everyday situations.
Blagging Free Entry
Women should dress in a highly sophisticated manner whilst exuding a sex appeal that other people in the queue simply do not exhibit. Make-up should again, be sexy, but not overdone and kept simple. Men should be elegant, stylish and dapper. Suit tops with shirts but no tie create the appearance of laid back cool. Keep it simple and your style will be effective.
Blagging a Job
Your dress sense is so important at the office and never more so than at a job interview. Without a great attitude, personality and dress sense, even the best candidates may stumble at the first post. For every job interview you should wear a well-fitting suit that makes you feel good about yourself. You should have a clean and recently ironed/pressed outfit with a simple colour theme. Bright colours are best left out in favour of pastel shades. Think of your colour choices as home decorating. If your interviewer thinks you will look out of place in front of the office wall, you won't get hired for the job!
Blagging a Date
First impressions make or break relationships. If you want to get your ideal partner's heart racing you'll need to think about your dress sense and style first of all. Men look for skin in women's outfits, but not too much. Women should provide a sense of temptation; promiscuous dressing will put men off more than anything.
In men, women look for simple colour schemes and mature, elegant male dressers for a perfect date. Men should think of female heartthrobs such as George Clooney, Brad Pitt and even David Beckham. What is it about the outfits these men use to score with some of the most beautiful women in the world? They keep it simple and concentrate on the fit, the cut and the name of the designer. They also all manage to keep a 365 day-a-year golden tan!
You might also like...