How To Get a Free Hotel Room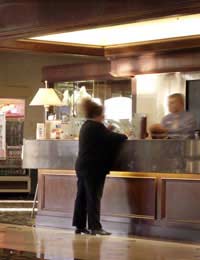 Getting a free room sounds too good to be true but there are actually a number of great ways to get hotels to put you up for nothing!
Ask, but be Nice!
When you arrive at a hotel remember to be nice polite and courteous. Treat staff like they were your friends. Drop in to conversation that you are looking for a good deal and ask them if they have any free rooms. It's unlikely they'll really offer you anything for nothing at this point but you may break the ice and get them laughing!
At this point ask if you could strike a deal. Point out that you'll be staying for a few nights and ask them if you could have your third (or fourth/fifth/sixth, etc) night free. Some hotels will be pleased to bargain like this with you, especially in low season.
Pretend to be Famous
Walking in to a hotel and asking for a free room will most likely get people laughing, but not get you a free room. If you pretend to be famous, there's a small chance that a kind (or bewildered) member of staff might give you a freebie!
Pretend to be a well-liked celebrity (not Paris Hilton). Pick a good time to try this blag, such as a busy period (when staff will be under stress and more easy to confuse) or a busy convention date. If other famous people are already staying in the hotel (as part of the convention) then staff will be more likely to accept you are who you say you are and provide you with a free room.
Act Naïve
When you arrive to check-in at a hotel explain that you have already paid, been billed and booked a room. When there is no record of this happening, act naïve and confused. If you strike enough of a fuss, whilst maintaining your confidence, charisma and charm, then staff may allow you to have a room whilst they sort out "their" problem over night.
Become a Hotel Member and Enter Competitions
Most hotels operate members clubs. Many of these clubs offer members the chance to enter competitions with great prizes such as free rooms and breaks. Make sure you enter every competition you can in an attempt to win a free room.
Hotel membership schemes sometimes offer reward points for the number of stays you make. Try to build these up and use them on a free room in the future. Other member's schemes, run by Credit Card companies, Roadside assistance companies and various supermarkets and shops may also offer free hotel rooms at certain chains if you accumulate enough reward points. Always enquire about what is available when you sign up to member's reward schemes!
Members of these schemes may also be able to receive a discount when they book rooms or stay in hotels. Ask hotels who their partners are when you arrive!
Complain
Complaining after bad service is a good way to get a freebie. Write to a manager, or area manager, after staying somewhere. Include your receipt from your stay. Follow up your letter with a phone call. Be polite, friendly and charming but clear about your problems. Make it obvious that you want some form of recompense, and that a further free stay would do nicely.
Get to "know" Someone at the Hotel
Friends in the right places can be very useful. If you use a hotel regularly why not try to befriend some of the staff. If you can build up a good enough relationship with some of them then, when you come back, you may find your bills are rather less than they should be!
Use a Cashback Website
Websites that offer customers cashback can be very useful. Check them for deals involving hotel rooms. Sometimes cashback offers can be so good that you will receive the total price of your room in cashback; the equivalent of a free room!
Negotiate with Travel Agents
Ask your travel agent ask for deals with free hotels when booking your holiday, or even better, ask them if they can give you a deal that offers free accommodation. Not all travel agents will negotiate like this with customers, but unless you ask, you'll never know what you can get for free!
You might also like...