How to Get A Hotel Room Upgrade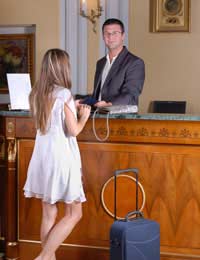 Be Nice!
This top tip requires a very small amount of skill but bags of enthusiasm! When checking in simply ask nicely for an upgrade (and when we say nice, we mean grovelling/bowing down before someone/lots of sucking up!). If there is anything available, the member of staff you are talking to may be allowed to give something for nothing to a nice person, although this will definitely be at their discretion!
Alternatively the hotel may not have an official "upgrade" service, but may have a slightly better room (for example, in terms of size, view or amenities) that they can offer you for the same price as an average room (i.e. something with a view of the concrete car park).
Become a Member
Most hotel chains offer regular customers the chance to become members. This usually requires customers to pay a small joining fee or to fill out various membership forms. Although this may take time, it may also offer customers the chance to upgrade in the future! Some hotel chains will offer members complimentary upgrades if they have rooms available. Others will offer this facility to members, if it is requested. So always make sure you ask!
Be a Repeat Customer
If you frequently use the same hotel or hotel chain (be it for work, pleasure or to carry on illicit affairs) you may build up a rapport with staff or a certain staff member (especially if your affair is with them!). Over time you may be able to use this relationship to develop a long-term discount or receive regular upgrades. Similarly to all other steps, make sure you always greet staff, be friendly and build your relationship by offering things like the paper (once you've read it), sweets or drinks after work, in the hotel bar!
Complain
If your room is not up to scratch, you need to complain. If you room IS up to scratch but you want an upgrade, you also need to complain. If staff know you are unhappy they will try their best to accommodate you elsewhere and kind-hearted staff will offer you some form of upgrade to apologise for the initial shock of a below par room!
Get on the List
Call ahead and ask to talk to the hotel's manager. Get them to place a note on their computer, requesting an upgrade. Ask for their name before you hang-up. Once you arrive and check-in, wait until staff notice the upgrade request. Use the manager's name to your advantage. Use the manager's first name and make it sound like you've known them a while. Requests with the boss's name attached to them usually get results, including free upgrades!
Plan Ahead
Plan to stay Sunday to Thursday and in winter, rather than summer. Requests for upgrades made during these less busy (off-peak) periods are usually much easy to action.
Tip Wisely
Offering "tips" to hotel staff (even the concierge, receptionists and doormen) can improve the likelihood of achieving an upgrade! Ten pounds here and there might mean a room worth several hundred pounds more a night! Remember to smile and if staff refuse tips to remain courteous and laugh with them.
Write for Results
Tell the receptionist that you would be happy to write a note to the management about how helpful they have been during your stay. Hotel staff usually love letters because they become part of their permanent Human Resources record and may help them to get a raise or promotion!
Arrive Late
Make a reservation at a hotel but tell them that you will be arriving late. If possible, arrive after 1 a.m. This leaves more possibility that the hotel will sell out of their most popular, regular rooms and be forced to upgrade you to a better one (or even a suite)! The hotel has to give you a room, especially if you have already pre-paid your money.
Pretend to be Famous
It's a long shot, but always worth a try.. especially if you really do look like someone on TV! Sometimes, just joking about being famous and expecting a free upgrade can be enough to persuade a friendly receptionist to give you a freebie….
…so good luck, Hugh Grant!
You might also like...