How to Get the Best Seats On a Plane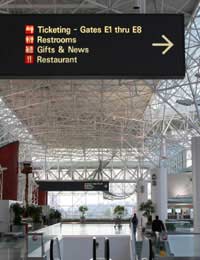 Unless you own a South London football team it's unlikely you'll be able to blag your way on to a private jet, but getting a free upgrade to first class from the grotty hell of economy may well be a possibility!
Like most blags, it's important to be confident when talking to staff, maintain eye contact at all times and come across as polite and charming. Always build rapour before asking for an upgrade; after all would you give a free first class seat to someone you didn't like?
Basic Upgrade Blags
Tackling basic upgrades requires a small amount of planning and a great deal of luck. Some people prefer arriving early, whilst others arrive late for reasons you are about to become aware of.
Most of the time, upgrades are at the discretion of check-in staff, so make sure you pick a friendly face to take your bags! Bear in mind that if you are travelling by yourself you have a much greater chance of an upgrade, and that there is no guarantee that first class seats will be available to you or anyone else.
Arrive at your airport early and make sure you are first in the check in queue; don't let anyone get in front of you. When you are invited to check in, be friendly, smile and talk confidently. After what will hopefully turn in to a pleasant conversation with the check-in staff, ask if there is any possibility of an upgrade. If you're a little bit lucky, and have befriended staff well enough, you'll be sitting in extra large comfort, very shortly!
Arrive last in your check-in queue and follow similar opening steps as detailed above, making eye contact and smiling with the airline staff. Ask if there are any possible upgrades. Sometimes airlines keep potential upgrades and spare seats until the very end of check-in in case they are needed for over-bookings, disabled customers or last minute travellers. If this is the case, you're in luck!
If you have a good enough reason to require an upgrade then it is worth calling the airline a day or two before your flight to see if any special treatment can be arranged for you. Tall customers are often able to score seats in front of exits (with extra leg-room) whilst larger waisted customers may be able to scrounge wider seats, or seats on the aisle. If you have a medical problem (such as a disability or broken limb) you may also be able to wangle an upgrade.
Who knows, if you get through to someone with enough clout on the phone and manage cheer them up with your friendly, confident banter, you might even wing a first class trip!
More Complicated Upgrade Blags
Some credit card companies offer free economy (and less often first class) flights as an incentive to open an account, or as a free gift if you earn enough loyalty points. Credit card companies also often hold competitions for their customers with prizes, which often include flights.
Find out if any such offers are currently in operation by searching online and visiting credit card company websites. There is nothing to stop you from signing up for a credit card, cashing in a flight and then closing an account (although you might not want to do this too often as it may start to affect your credit rating).
Ryan air, EasyJet, and BMI Baby have all offered free credit card flights in the past, whilst Citicard, Morgan Stanley and Barclays are certainly worth checking out too.
Airlines sometimes offer customers free flights or free upgrades if they have complained about poor service received in the past. If you have travelled on an airline and received less than adequate service, make sure they know about it by giving them a call and writing them a stern letter. If you make it clear that you have not been impressed on your first flight, your next trip may turn out to be much more relaxing!
Blatant Blagger Upgrades
If nothing else has worked there are a few hit and miss last resort blags that you may want to try to score those precious best seats on your plane. Once you have boarded, talk to the cabin crew in a confused manner and explain that your tickets seem to be for economy, but you should be in first class! Tell them that someone else ordered your ticket for you and you paid them the full first class fee. If you cause enough of a raucous staff may just let you sit in any spare seat. On the other hand you may also be asked to leave the plane. Use at your discretion!
Finally, if you are one of the last passengers to board the plane, and you see a spare seat in first class, why not just sit in it and see what happens. If all other passengers are sitting down then it is likely the seat will be empty for the entire journey, and it would be a shame to see it go to waste!
You might also like...