Mention Your Company for a Freebie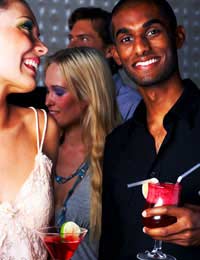 By this, we don't mean bigging up your part-time job at Burger King! Mentioning that you work for a certain high profile company can really take you places but only if the company you are talking about is relevant to the person you are talking to.
For example, standing outside a gig venue and talking to your friend about your day scouting for talent at a rock festival for EMI is likely to get you free entry, even free drinks or a quality freebie, IF someone in one of the bands playing walks past and hears you.
Similarly, mentioning that you work as the editor for a lad's mag (and consequently have the final word in who models for the magazine each month) could get you free entry into some top clubs, and maybe even a model to take home to boot!
Of course, you don't really have to work anywhere for this to work. You could quite easily be a street cleaner or an office worker and still impress people by mentioning top business names such as Microsoft, Virgin and Deloitte! Once you've told someone you work somewhere, they are very likely to believe you, especially if your style of dress, attitude and conversation back up your story. So make sure that they do!
When to use the "Who you Work for" Card
Although it can work well this blag should only be used as a last resort. It relies heavily on luck. What you need to find is someone naïve enough to be impressed by your status whilst having enough authority themselves to get you what you want! It can be used as above, outside venues in the hope that someone influential hears you a gets you free entry and it can also be used much more directly.
For example, at a hotel hosting a convention, dropping into conversation that you are here with "Hewlett Packard" or relevant company to talk about your products may be enough to blag a free room. At a busy restaurant that is fully booked, dropping into conversation that you are a Director at one of the restaurant's partner companies may push staff to find you a table.
How to Use the "Who you Work for" Card
Using it does require an element of subtlety too. After all, someone that really worked for a company wouldn't go around loudly announcing what he does and where he does it. Small hints are key when talking about your workplace. A diary with a company name on it, or better still a piece of ID with a company logo are excellent for provoking a response.
Those of you familiar with Neuro Linguistic Programming should consider these principles when thinking about using this blag. Talk with confidence, maintain good eye contact and make sure you smile during the "mentioning" procedure. A smile will take you anywhere.. keep it up! Eye contact is also more than important. Make sure you are not the first person to break eye contact.
Of course, simply mentioning that you work for a high profile company does not guarantee you access to anything. This is simply another mechanism that is worth a try in several situations. Like all other blags you should approach the use of this with a carefree, "nothing to lose" attitude. Never raise your voice or get annoyed if someone doesn't play along with you. People tend to be much happier to help (and find things much more believable) if you are polite, amicable and sincere, so make sure that every time you try to get something for nothing or a 'freebie', you make the experience as pleasant for the people helping you, as it is sure to be for you!
You might also like...