How to Blag a Good Mobile Phone Deal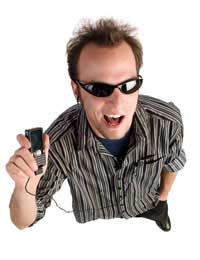 Mobile phones are one of the most must-have items of the 21st century. Online, on the high street, even in supermarkets, mobiles of all different shapes and sizes are being bought and sold, which means the industry as a whole is worth a fortune! All of us, it seems, love to talk!
Of course, if you're reading this, you'll like to blag as much as you like to chat. So without further ado, here's what you should be doing, to get the best rates on your mobile!
On the High-Street
Mobile Phone shops are serious about marketing their merchandise. Salesmen and women are trained to be very persuasive (at times, to the point of manipulation) and convincing when it comes to selling and advertising the various "deals" available. Customers should be aware that these deals are often sound better than they are and contain a lot of small print.
The fact that deals are available, however, means that mobile phone retailers are open to discussion when it comes to buying your phone and serious blaggers should be willing to negotiate with staff, to develop a personalised money saving package, to suit.
When you are buying your phone, be careful of the hard sell. If the situation requires it, turn the tables and be firm with the sales assistant. Make it clear that you know about the marketplace and that you want to get a cheap deal. You don't want any messing around. All phone deals are negotiable in phone shops and if salesmen disagree, they are doing so in order to maintain their full commission!
Older phones offer the best potential discounts for blaggers as retailers have the most leeway with prices. Buying two (or more) phones at one store may improve your chances of blagging a big discount (or even a half-price second handset) because shops will be keen to develop two new customers.
Agreeing to potential long-term, binding contracts (such as 18, rather than 12 month) may also be a good idea, as phone stockists are more interested in long-term customers and will do almost anything to make this kind of sale… including dropping the price, and working out a deal!
Online
There are now a plethora of online merchants offering great deals on mobile phones. Similarly to high-street stockists, older phones offer much better value for money, although phones will be slightly more "out of date". There is little to no point calling mobile phone stockist as you probably wont be able to negotiate deals over the phone and phone lines may be very busy as staff numbers are kept to a minimum to keep costs low. Online deals have been carefully worked out to offer low prices whilst maintaining a profit margin for the companies so they can be very respectable.
Rather than offer cheap prices, some online retailers offer cash back to customers through cheques. Although this doesn't sound too respectable, and there are various complaints about the system online, the system does work and most people get their cash as long as they are careful, and fulfil companies' (sometime purposefully hard to understand) criteria!
Cashback Website
Online cashback websites offer customers cash incentives for using their intermediary services. This is an excellent mechanism for online shoppers to increase their savings when buying phones. In fact, if customers are clever, it is possible to end up being paid to use mobiles! Because some of the offers of online retailers are so good, customers can receive £0 a month contracts. Buying through cashback websites means customers receive an extra cash lump sum, which means that you can actually "earn" money, buying a phone!
Complaining
Towards the end of your contract you should call your service provider (SP) and threaten to switch to a competitor. At this point your SP should offer to cut your monthly bill, provide you with an instant upgrade to a better handset, or both!
It may also be possible to receive a discount mid-way through your contract if you have a legitimate reason to complain about the service you have received. Mobile providers want to retain their customers and usually satisfy their needs, especially when they have made a mistake!
You might also like...