How to Shop for Free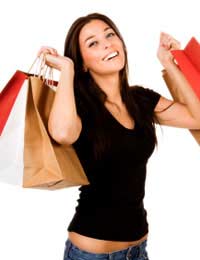 It's a common conundrum. You want new things but what you don't want is to part with your hard earned cash! Everyone likes buying new things but most people don't like parting with money. If only there was a way to shop, for free, that didn't risk ending up with a five year stretch in the slammer!
Well nowadays there are ways to reduce the cost of hitting the shops, both on the high-street and on the web. Read on to find out what we're talking about!
On the High-street
Most large chain stores offer charge cards and credit cards with which you can defer payments for a later date. Although putting off payments is certainly not ideal (these cards come with extremely high interest rates!) opening these accounts and paying off your balance straight away, can be. Chain store credit cards often come with special opening offers, such as a percentage discount on your first purchase or credit vouchers for future purchases. If you are savvy enough about it, and have the finances to pay off your credit card immediately, opening and then closing chain store credit card accounts can be lucrative; a great money saving shopping method!
Complaining to companies' head office is another way to end up getting something for nothing, although this method relies heavily on luck. If you have not been satisfied with a recent purchase or shopping experience then make sure someone knows about it! Write a letter to the particular company's customer complaints department and then sit back, relax, and wait! After what is likely to be some weeks, you should receive a response expressing sympathy and potentially including several pounds worth of free credit vouchers. Keep your fingers crossed!
On the Web
Online shopping is definitely the best way to get something for nothing. Recently a new wave of cash back websites have begun offering customers cash for making purchases through their websites.
Unlike other more corporate shopping portals, these sites pass on the commission, which companies pay them when customers make a purchase. The commission passed on goes directly to the customer – that means you! With some types of purchase this can equate to a totally free product or service, and with others you can save a huge percentage of the recommended retail price!
Gambling sites seems to offer the best potential cashback with sales through some cash back websites offering customers £50 if £50 is deposited and played at particular online casinos. For the clever ones amongst you, you'll notice that this means you can gamble £50 for free!
Sales made through service providers (such as insurance companies, mobile telephone operators and even online web hosting services) give the biggest cash back/discounts but even purchases of goods such as clothes, food and even make-up can provide large amounts of cash. When shopping online, there are few other websites that will pay you to buy and that's why modern blaggers with online access should use cash back for all their web based purchases!
You might also like...