How to Get an Upgrade on your Credit Card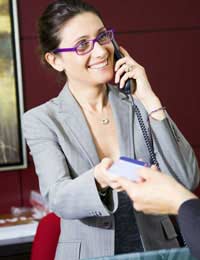 Getting an upgrade to your credit card service can come in one of several forms, depending on the company you are dealing with. Credit card king's such as Virgin and Barclays have a plethora of various credit cards, all with slightly different interest rates (varying from high to very, very high) and offers that could see you bagging a free flight or hire car, sooner or later.
Types of Upgrade
The cards with the best freebies have the highest interest rates and may also charge customers a fixed monthly or yearly fee for use. Complainers (or savvy blaggers) may be able to get hold of these pay for use cards for free, however, as part of an upgrade to their service. It's debatable how good this would be for your finances (these cards really do have very high interest rates) but if you are the kind of person who pays off their balance each month, and likes collecting points and rewards, this could be a very tasty blag indeed!
Other forms of credit card upgrade include receiving a lump sum of complimentary points, airmiles or a free gift (such as holiday vouchers or money off goods or services of credit card company partner businesses).
You may also see your bank charges and interest reduced if you spend some time complaining and blagging with the right member of staff at a call centre. It is important to always speak to the top dog at the call centre, as general staff almost certainly won't have the authority to change these things.
Complaining
All credit card companies have to abide by strict guidelines set out by the Financial Services Regulatory Commission and the Office of Fair Trading. They will usually have a complaints department ready to handle difficult customers (like you)! For these reasons they will be wary of court action and treat serious "no nonsense" customers with caution.
Most complainers give up when they get bored waiting to talk to someone in a call centre queue. If you are savvy, assertive and firm with the people YOU talk to, you are likely to get whatever you want. Remember that this may take time (several weeks or months), as processes are slow at major companies, but if you bite the bullet and don't let things slip, you could see your interest rate drop to the floor and your airmiles hit the ceiling!
Common credit card errors relate to incorrect charges, statement inaccuracies, incorrect information, delays, multiple mail-outs and telephone incompetence. If any of these things happen to you, make sure you tell someone about it! Credit card companies are very wealthy, powerful organisations and like all service providers, they will do anything to keep a customer.
When something goes wrong, call up to complain and threaten to cancel your cards. Make it clear that you could be persuaded to stay if offered loyalty points, airmiles or an upgrade to another card with better services, but that otherwise, you've seen better deals on offer elsewhere and you are more interested in switching to them.
At this point you may get passed to a member of the Customer Retention department or the Sales team, where you will be re-sold the company. If you get the deal you are after, great. If not, and things are going nowhere, ask for the name of whoever you are speaking to and then ask for the name of their supervisor or the highest in command in the complaints department. When you have this information, say goodbye and get on to your laptop. It's time to write a letter!
Letter writing can be a long process because firms take so long to reply. The usual format of complaining with a large company is that you write to them first, they reply within 30 days offering their condolences. You must then reply and clearly state you are still unhappy and will be taking your issue still further (to the Office of Fair Trading, Small Claims Court, or similar). Wait 30 days for another answer. If you don't get what you want, which is unlikely, you should re-consider our case and if you think it is strong enough, follow the legal route.
Sample Letter of complaint
DATE – 00/00/00

REF: XXXXXXX (if you have one)

Dear (make sure you have a name to address things to!)

I am very unhappy about the levels of service I am receiving from (the company). Last month I was overcharged by £50 on my credit card statement, which limited my facilities and prevented me from paying for items I needed when shopping. This is not the service I expect from a company as large and well respected as (the company).

Although your call centre staff have now rectified the problem and returned the overcharged cash I am very concerned that this type of issue will happen again. I am also annoyed that if I hadn't spotted the mistake, then the problem may never have been rectified.

I no longer feel I can trust your service, security or computer processes. I am seriously considering leaving your company in favour of your competitors and shall do so, unless I receive some form of compensation in recognition of your mistakes.

Yours Sincerely,

(Signature)

Your Name
Points to Note
Be direct!
Take time to write in a professional manner using good grammar and spelling correctly.
Include your reference if you have one.
Use the name of the person you need to be talking to.
Be prepared for things to take time.
You might also like...