Get a Free Service or Product Upgrade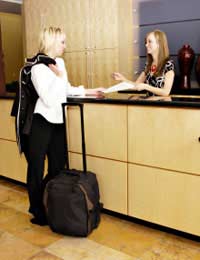 Model upgrades are usually available on all new products especially hi-tech items such as mobile phones, laptop computers and even modern cars. Manufacturers expect customers to fork out extra money on top of the basic price for upgrades, which are often only a very small improvement or extra added feature. We don't want to pay more money! So how can you get an upgrade, for free?
Specific Model Upgrade Blags
Rental Car Upgrade:
Book the lowest available class of car. When you arrive to pick up your vehicle, the company will either have this car ready for you, (in which case you can ask to upgrade to a large car for a small fee) or they will not have any small cars and will give you a bigger one for the fee of the smaller car. This is a great blag, as small cars tend to be the most popular rental and your chances of success are high, especially in tourist peak-season!
Online Shopping Upgrade:
If you order an item from a website, which turns out to be out-of-stock, the online retailer may offer you a refund. If you complain and explain to them that you are in desperate need of the product for work, or social pursuits, then to save face the company may send you an upgrade that IS in stock, at the same price as the out-of-stock item.
Upgrading Your Mobile Phone:
If you are in the middle of a contract with a mobile phone company, but are unhappy and want to switch service providers, there is often little you can do. Once you are on a contract, a company will not want to release you (and your cash) to one of its rivals!
If you make it clear you are unhappy with your service and can provide examples of times in the past when you have been affected by mistakes made by your service provider, then the mobile phone company may offer you a small discount to your monthly bill, or a free upgrade to a better mobile phone.
Hotel Room Upgrade:
This blag works best in large hotel chains. Smaller, independent hotels may not be so happy to entertain your complaint!
Book the cheapest room at a hotel, arrive, check-in and go up to your room. After a few minutes call, or visit reception and complain about the room. Use issues such as cleanliness, smell and window view to explain that you find this room completely unsatisfactory. If you manage to get through to a happy-to-please receptionist, expect to find yourself upgraded within a matter of minutes.
Reward Points:
Remember that reward scheme cards may allow you to upgrade for free at hotels, on planes and trains and when renting a car, although this will require you to spend some of your accumulated points.
Overall Upgrade Information
Always remember that getting an upgrade is at the company's discretion, but if played well you will almost certainly get what you want! Complaining goes a long way, especially with big companies and brand names as these people want to keep their customers happy. Never get irate when blagging an upgrade and always be thankful, appreciative and charming.
You might also like...